I've happily owned the "JOLLYLLAMA.COM" domain name for years. Recently someone tried to take my name from me. Sadly, It was kind of like this video.
READERS DIGEST - Foods You Should Never Buy Again!
Premium frozen fruit bars
You think llamas are cute? They smell bad, they spit, they crap all over the place and they BITE! Keep yourself and your kids at a safe distance.
"Hey Mom… Can I Have My Ice Cream with extra Beaver Ass?"

Most people make sorbet from; water, fruit puree, lemon juice, and sugar. Some people like to add wine or spirits to enhance the flavor.


Additionally, some people like to add;
Corn Fiber

Citric Acid

Natural Flavors* see CASTOREUM

Stabilizer (Guar Gum and Xanthan Gum*)

Ascorbic Acid


Palmitate

… WTF?
CORN SYRUP

? How low

can you go? Charge a little more and use respectable ingredients.
Just because it comes from a health food store doesn't mean it's good for you or safe.
CORN SYRUP? Jah Lee says "You don't feed this junk to the little llamas you love!" Always check the ingredients and take to task any manufacturer that vaguely lists "Natural Flavor." Several of these tasty natural flavorings are decidedly NON-VEGETARIAN. There are several National Brands that don't use these kinds of insidious fillers in their products and you can find them in every supermarket. The ones that do should be ashamed of themselves.


"Natural Flavors" Yum! (or is it Castor-e-YUM!)
orCasteum is made from the secretions that come from the castor sacs in beaver's anuses… with a dash of beaver urine thrown in as well. Castoreum is used in most vanilla and raspberry flavorings (and also to flavor some cigarettes). Not only is this stuff disgusting and inhumane, it's kept totally secret. Under FDA rules, companies don't need to include castoreum on the ingredients list — they can just call it "natural flavoring."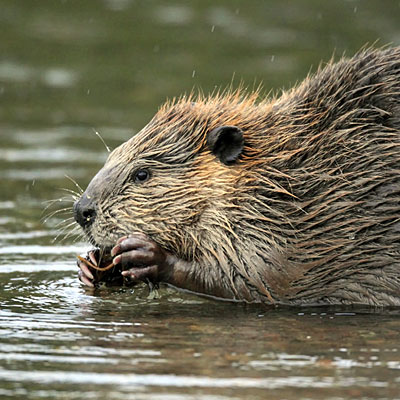 Castoreum: If the name doesn't sound all that appealing to begin with, you might freak out when you learn this ingredient, which is used in a variety of foods and beverages including vanilla and raspberry flavorings, is really an extraction of the dried glands and secretions from a beaver's rear end (and that's putting it politely). In fact, if you're thinking of going into the food business and need some "natural-flavor" castoreum for your ice cream, you need go nor further than castoreum.com, where Agro Laboratory, a "leading supplier" will sell you some. Just look for the photo of the cute little beaver swimming on the home page.
As it happens no up to date consumer list of specific foods containing castoreum exists anywhere. Why? Well to start out, would you buy a food product if you knew it contained beaver anal glands? These glands are not exactly anyone's idea of a heavenly nosh. Anticipating this, the food industry managed to get castoreum added to foods under that innocuous, legal and sometimes not so innocent label: "natural flavoring". So even if castoreum IS present in foods and beverages like ice cream, yogurt and soda, you and I will never know it. Nor will any food manufacture divulge this info if you contact them (why nix sales?). They will inform you that THEY never add castoreum to their foods and beverages. If pressed, they will probably add they can't of course speak for their vendors, who supply them with flavorings containing ingredients that are proprietary information.
Natural flavor can, literally, be anything that isn't man made. Cat urine could be a natural flavor. If someone discovered that goat jizz added a special zing to ice cream and they could prove that eating it wouldn't make you sick … natural flavor. We're not saying any of these are in your foods, but you get the idea.
"I'll have mine without the natural beaver ass flavoring if you don't mind"

You've seen Xanthan Gum on the label. Ever wonder what it was?

It's a tasty bacteria! Xanthomonas campestris is bacterial species that causes a variety of plant diseases. Some people will put anything in your food.
Hey, it's okay for people though and a tasty addition to your salad.

Guar Gum, Colon Cancer, WTF?
Diets that utilize guar gum as the primary fiber source might run an increased risk of colon cancer. A study in rats published in "International Journal of Cancer" in 2002 illustrated that high levels of guar gum exacerbated colon cancer risk. Although there have been correlation studies in humans, there have not been any complete clinical trials in humans to examine this possible impact. If you have any history of colon cancer in your family, you should be cautious when consuming large amounts of guar gum.
References
"In

ternational

Journal of

Ca

ncer;" Increased Incidence Rate of Colorectal Tumors Due to the Intake of a Soluble Dietary Fiber in Rat Chemical Carcinogenesis can be Suppressed by Substituting Partially an Insoluble Dietary Fiber for the Soluble One; H. Okazaki et al.; August 2002